There are places in this world where the fabric of reality has worn thin, 
where strange and terrible creatures have crossed over 
to lurk in the shadows and the night.
There is an organization dedicated to finding these creatures and sending them back 
whence they came, sealing the rift behind them, and maintaining 
the integrity of those borders.
The organization is called BEDLAM.
Its agents are…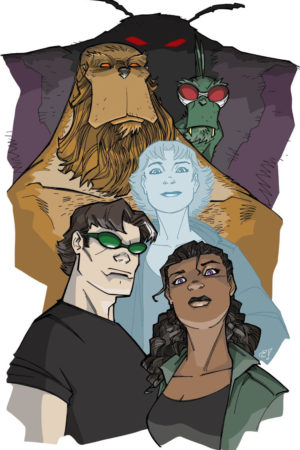 INTO HOLLOW EARTH
In which our intrepid cryptids—The Perhapanauts—at the dawn of their career, receive a mysterious message that leads them into the very bowels of this very planet! Join them as they do battle with lost civilizations, futuristic technologies, bizarre subterranean creatures—and a madman's plot to destroy the world above!
An ALL-NEW INNER EARTH adventure from the CREATIVE COMBO of Todd ( TELLOS, SENSATIONAL SPIDER-MAN, IMPULSE ) Dezago and Craig ( BATMAN BEYOND, SPIDER-MAN LOVES MARY JANE , BATMAN '66 ) Rousseau.